The Cameras in the Wild eBook
A Guide for the Adventuring Photomaker
This ebook is for those of you who've managed to stumble into the glorious madness that is adventure photography.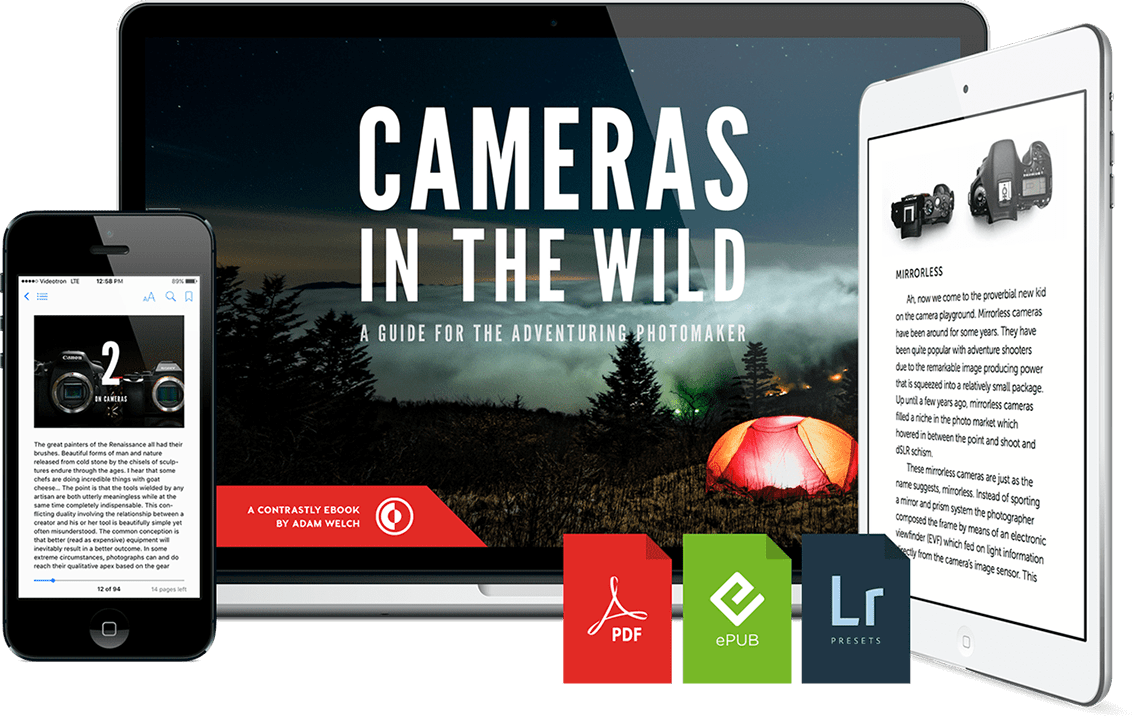 Each one of us is uniquely unordinary. In this ebook you will learn not only how to capture a strong photograph, but also how to develop your images so that they become polished manifestations of your unique vision.
This ebook is for those of you who've managed to stumble into the glorious madness that is adventure photography. In those 9 chapters (more than 13,000 words), award-winning photographer, Adam Welch, will walk you through what it means to become an adventuring photomaker. From his own stories and secrets, to general advice regarding cameras and lenses, this ebook is packed to the brim with advice and tips to ensure that your next trip to the unknown will be a photographically fruitful one.
But wait, there's more. Included with your purchase is an exclusive pack of 25 unique Lightroom & ACR presets designed by Adam himself. The presets are compatible with Adobe Lightroom 4, 5, 6, CC, and Classic, as well as the latest version of ACR (10.3+). They work great with RAW and JPG photos (we highly recommend shooting RAW though).
We have designed this ebook to look great on any device and offer a comfortable reading experience. The included PDF is great for reading on your desktop computer or tablet – it looks superb on the iPad – and the ePub version is perfect for reading on your smartphone.
What's Included
9 chapters PDF + ePub eBook .pdf & .epub ebook files
Requirement
A PDF or ePub reader software/app
System Compatibility
All Systems Windows, MacOS, iOS, Android, etc...
Download it Today
$17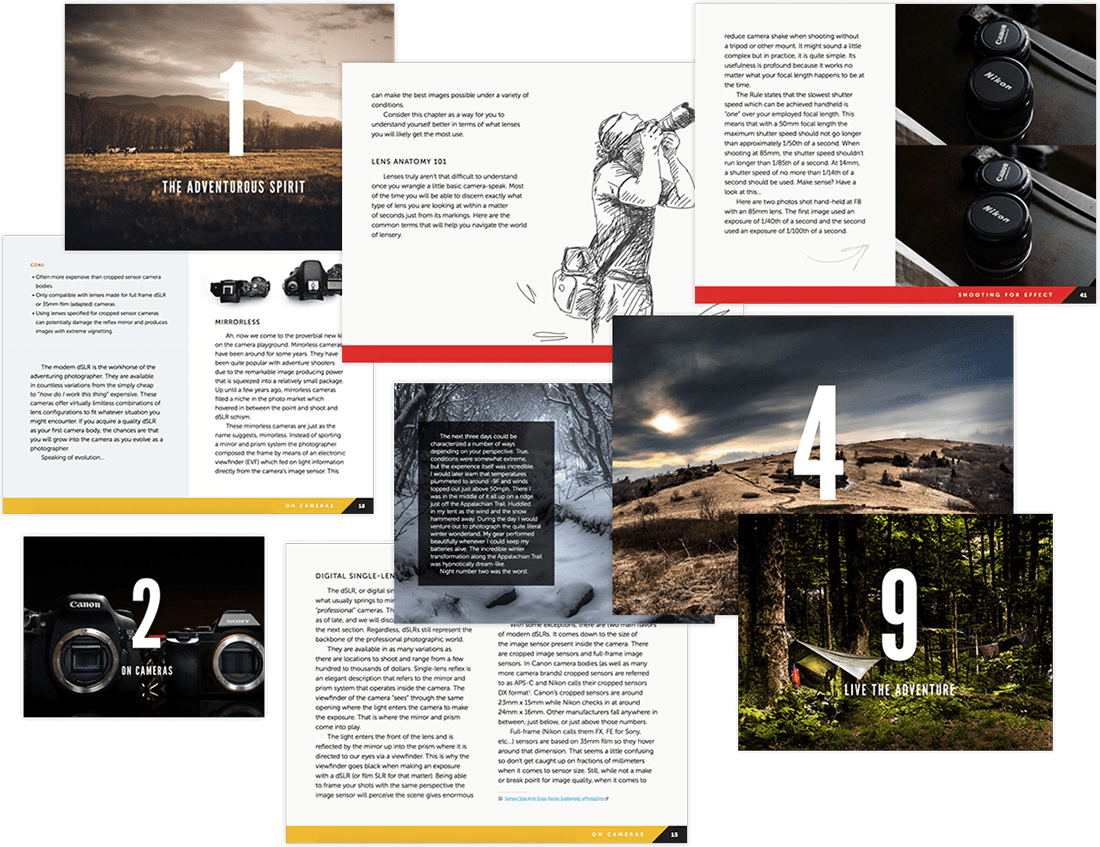 Why read Cameras in the Wild?
Each one of us is uniquely unordinary. Enjoy the ride.
Read through stories and learn how to approach scenes in the wild
Cameras in the Wild is an amazing dose of inspiration!
Learn what cameras and lenses to bring on a trip
Discover what makes adventure photography so awesome!
Read about what gear and accessories are necessary for a successful shoot
Better understand photography terminology
Learn how (and especially why!) to use certain lenses and settings
Master photography rules like the "600 Rule" to shoot breathtaking star trails
Find out what the "Reciprocal Rule" is all about
Be prepared and avoid costly mistakes before you venture out in the wild
Learn the exact gear that Adam used to shoot award-winning photographs
What is Included?
Cameras in the Wild contains a total of 9 chapters (that's over 13,000 words.) Below you'll find the complete list of chapters in the ebook.
Complete with photos and illustrations, this stunning ebook by award-winning photographer and author Adam Welch will guide you on your journey to becoming an adventure photomaker.
Preface 4
Chapter 1: The Adventurous Spirit 7
Chapter 2: On Cameras 11
Chapter 3: On Lenses 21
Chapter 4: Bottling the Moment 31
Chapter 5: Shooting for Effect 34
Chapter 6: Encounters in the Great Outdoors 46
Chapter 7: Co-Existing 58
Chapter 8: Standing Alone 62
Chapter 9: Live the Adventure 66
References & Further Brain-Wrinkling Material 68
Those Who Need Thanking 70
Ready to dive into the wild world of adventure photography? Let the Cameras in the Wild ebook be your guide to a successful journey!
Frequently Asked Questions
Do you have a question? We are here to help!
What software do I need to read the Cameras in the Wild ebook?
This ebook comes in PDF format – thus any PDF reader application will work just fine.
Are there any system requirements?
No. The beauty of PDF files is that they can be viewed on almost any device, from Mac to Windows, iOS and Android. For as long as you can open a PDF file, you'll be fine.
Can I read this ebook on any device?
Absolutely! The ebook is a PDF file, which can be viewed on pretty much any device (iPhone, iPad, Android and Windows tablets, etc...) We also provide an .epub version of this ebook which is great for reading on e-reader devices like the Amazon Kindle.
When will I receive my download link for my order?
Once you complete your purchase you will receive 2 emails: the first one is a receipt that details the transaction, and the second email contains your login information. Those emails are usually sent right away.
What currency do you charge in?
All of our products are in USD. You can check current exchange rates via xe.com.
How can I get in contact with you?
That's easy! Just drop us an email and we'll get back to you as soon as possible.