The Decoding Lightroom Video Course
The Essential Lightroom Classic Video Workshop
Over 5 hours of video training material – Lightroom Classic won't have any secrets for you after this.
The Decoding Lightroom online video course was created to help you, fellow photographer, better understand the software and make organizing, developing, editing and cataloging your images easier.
It's no secret that Adobe Lightroom Classic is the industry standard when it comes to photo editing. But, let's not forget that Lightroom is much more than that! In this online video course, award-winning photographer and instructor Adam Welch will walk you through the whole software from beginning to end.
We'll go over all the modules – Library, Develop, Map, Book, Slideshow, Print, and Web – and dive deep into each so you can then have the confidence to open up Lightroom Classic and both organize and publish your image library as well as edit your photos in a way that makes sense to you.
This online course will not show you how to edit your photos by following someone else's style. By the end of it, you'll have a solid grasp on importing, exporting, and editing, and have an organizational workflow that your peers will envy. You will understand both the "why" and the "how" to perform certain mission-critical tasks in Lightroom Classic.
You will learn useful and actionable techniques and will be able to navigate Lightroom like never before. You can view a sample video lesson here.
Whether you're new to Lightroom Classic or you have experience with it already, you are sure to learn new tricks and improve your skills. There is over 5 hours of training material available in this course where we'll demystify everything for you.
Please note that the Decoding Lightroom video course has no enrollment period – once you purchase the course you'll have instant access to all the content and you can watch the videos at any time.
What's Included
5+ hours of training videos + bonuses Streaming or Download
Requirement
Adobe Lightroom Classic and an internet connection for streaming
System Compatibility
Videos can be viewed on all platforms Windows, MacOS, iOS, Android, etc...
Get Access Today
$97
Why take the Decoding Lightroom video course?
Are you ready to take your photo editing skills to the next level using Lightroom Classic?
Make sense of all the icons and sliders that are found in Lightroom Classic
Get a deeper understanding of how (and why!) to work with certain sections
Understand how to import & categorize your photos and create a solid workflow
Develop your own style and your own presets; kick your photo editing into gear
Learn about the new Creative Profiles now available in Lightroom Classic!
Discover how saturation, vibrance, sharpness & other settings work in Lightroom Classic
Take your photo editing to new heights by mastering local adjustment tools
Effectively apply color grading, split toning, and other effects to your images
Master the HSL panel to give your photos that color boost you've always wanted
Master the adjustment brush, graduated filter, radial filter, and more
Master every type of effect that is possible within the software
Learn all about the new Texture slider introduced in 2019!
You'll even learn to use the Map, Book, Slideshow, Print, and Web modules!
Become a master of keyboard shortcuts and speed up your editing workflow
What People Are Saying
Don't take our word for it. Here's what people have said about Decoding Lightroom.
Excellent product. I had watched a few free videos online first but they just did not give me the detail I needed to go ahead to use Lightroom with confidence. Your Lightroom Classic video course has set me on the right path to be able to work effectively with my photos. – Tim Bellhouse
I have completed 5/21 lessons and am extremely impressed with Adam Welch's teaching. He is clear, concise, presents info in a logical flow, and really makes things easy to understand. I love that he doesn't waste time with just 'filler' info. – Charlene Mitchell
This was the absolute best presentation on LR Classic that I have ever seen or heard of. I have been struggling to get a good handle it and this course finally took me over the mountain into the blue skies of understanding. Adam Welch has a superb delivery and excellent way of communicating. – Charles E Wallace
I have only finished four sections so far and am really impressed. The course has simplified many of the areas of Lightroom Classic for me. The lecturer makes the sliders more easy to use and he is very knowledgeable about the subject. Thanks for the videos. – Bob Grady
Easy to follow and provides greater understanding of what and why of each step and process. I feel more competent and will try more features in Lightroom Classic. – Pat Gehant
I've used Lightroom Classic since v2.0. I've used a couple of online courses in the past, I've found yours to be fantastic. I'm saying that because you give the information clearly [...] you let me have the choice on how much or how little I adapt that information into MY workflow, rather than you just saying YOU need to do this! – John Butterworth
I've been following Contrastly for a while now and I'm so happy I got this course. It has helped me really understand the Develop Module. Now I'm creating my own presets and brushes. It's awesome! – Jennifer Tremble
The Tone Curve & Point Curve lessons are the best I have viewed on this module. Presentation is concise and impactful. Always interesting. – Patrick Cosgrave
Organising my photos has always been difficult for me (I have a lot!). Now I'm able to easily categorize them into collections and catalogs – makes processing so much faster. I also learned a lot from the Develop lessons. I didn't think I would because I have good experience editing in LR, but I did and I could not be happier! – Marie Hollinsworth
What is Included?
The Decoding Lightroom Video Course contains over 5 hours of training videos that are easy to understand. The whole course is split into 20+ lessons so you can jump straight to what you want to learn and re-watch lessons anytime.
Let award-winning photographer, author, & instructor Adam Welch take you through all the modules, sections, sliders, and panels found in Adobe Lightroom Classic.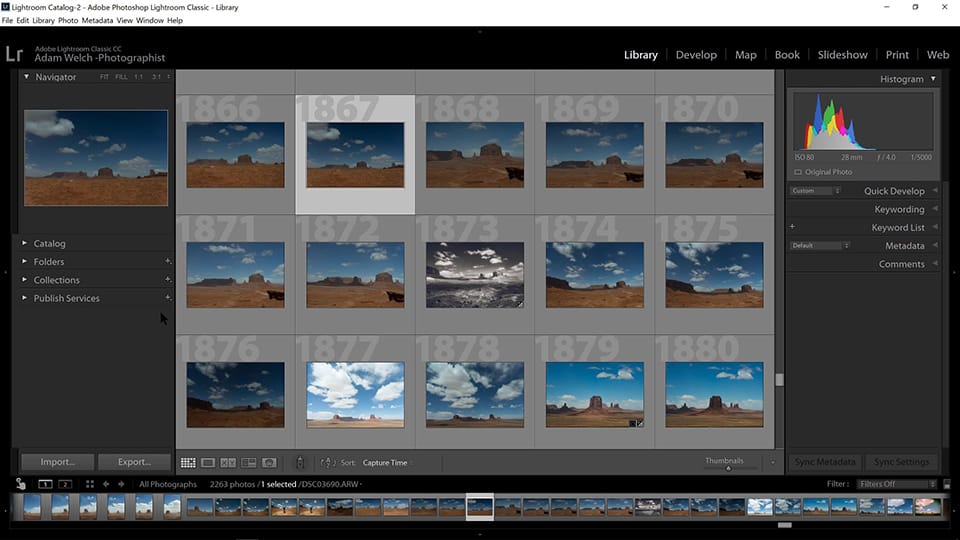 Walkthrough & Overview of Lightroom Classic 9m 37s
Lightroom Classic is a powerful piece of software. The very first video in this course will go over each module and section so you can familiarize yourself with the interface.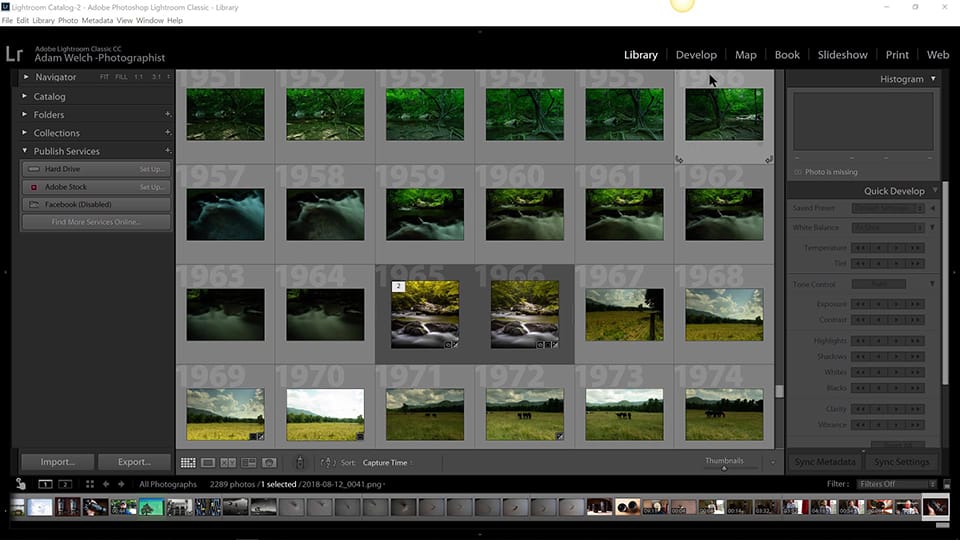 Importing Your Images 25m 15s
Importing your images is the very first step to using Lightroom Classic. There are many ways you can import your photos into Lightroom Classic – in this video we'll go over all the various methods of importing as well as file locations, and publish services.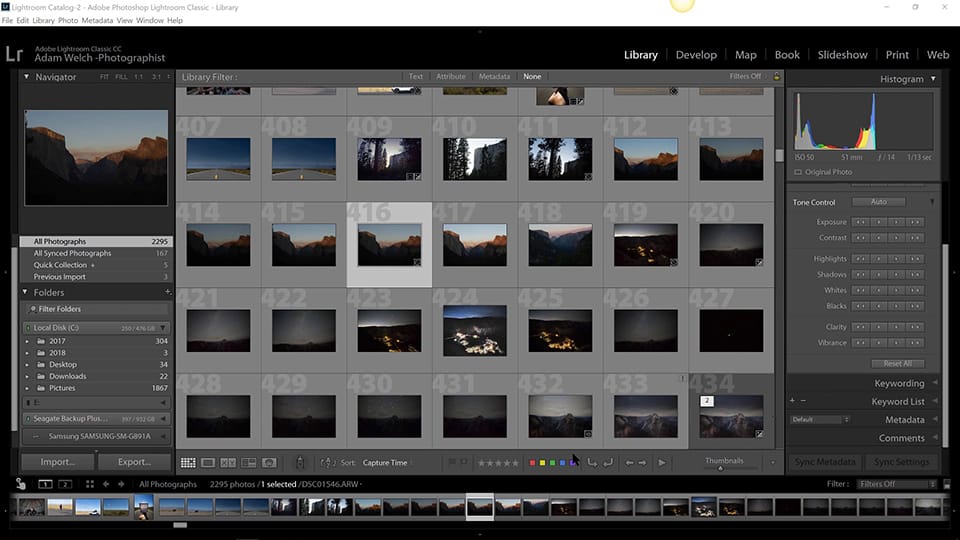 Understanding the Library Module 19m 34s
The Library Module is where you'll organize, catalog, filter, cull, and apply quick development settings to your images. This is also where you'll add keywords, metadata and a host of other useful information.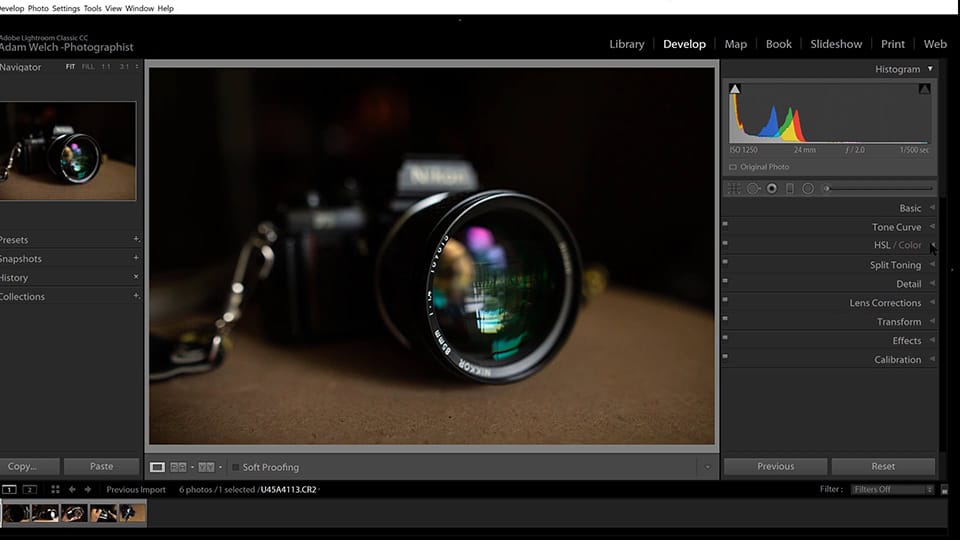 The Develop Module & Basic Development 22m 19s
The Develop Module is arguably where the magic happens. This is where you'll perform most of your photo editing and post-processing. We'll go over basic editing techniques as well as go over the interface and panels.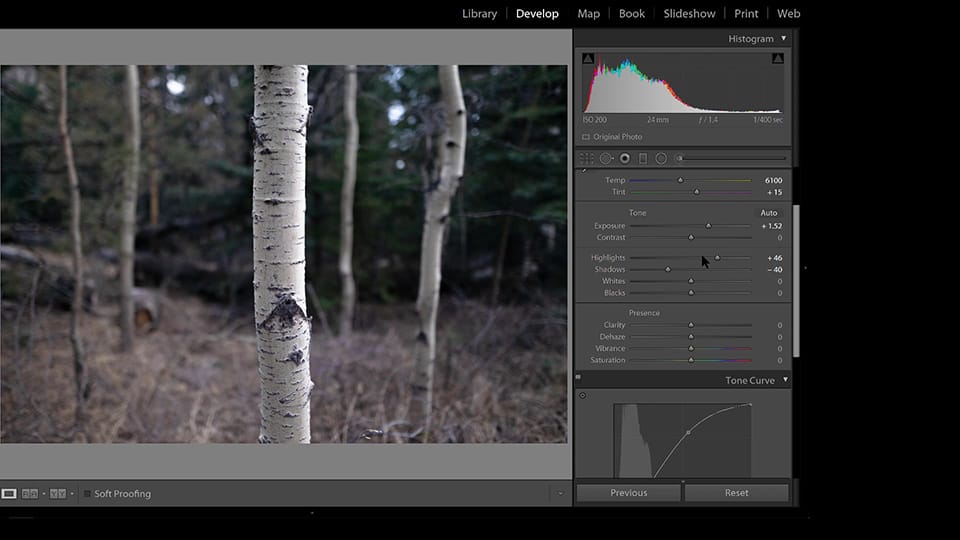 All About the Tone Curve Panel 21m 16s
Let's talk about the Tone Curve in Adobe Lightroom Classic. We'll discuss everything you need to know about the Tone Curve, from shadows and highlights to contrast, lighting and color tones.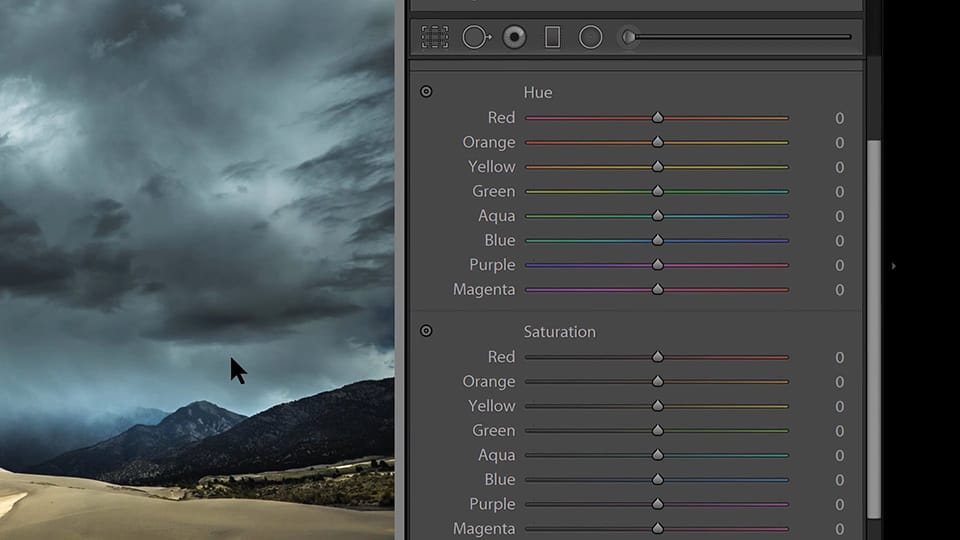 Working with the HSL Panel 11m 31s
The HSL Panel (which stands for Hue, Saturation, and Luminance) is a very important panel. We'll go over how to use the HSL Panel so you get a better understanding of how it can affect your color (and black & white) images.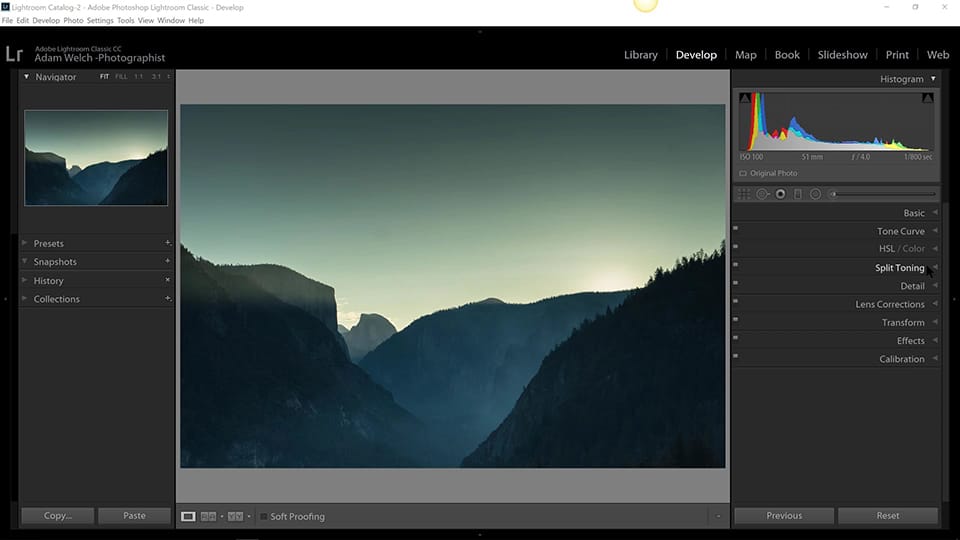 Mastering Split Toning 7m 48s
Split Toning is a technique from the film days. In this video we'll go over how to apply a split toning effect to your shadows and highlights and how to create a stunning split tone image.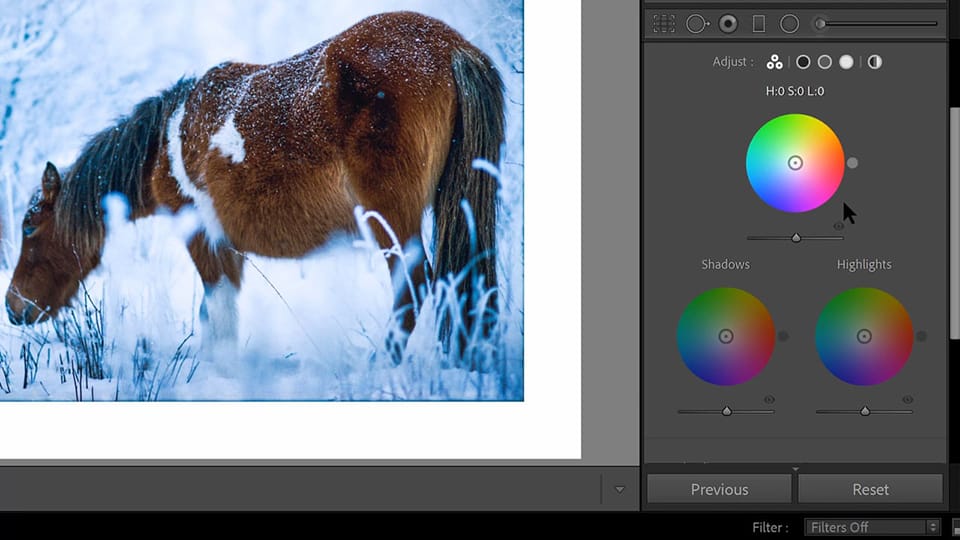 Mastering Color Grading 18m 16s
The new Color Grading panel replaces the Split Toning panel. This video goes over the changes that were introduced and will teach you how to use Color Grading to adjust the colors of your highlights, midtones, and shadows.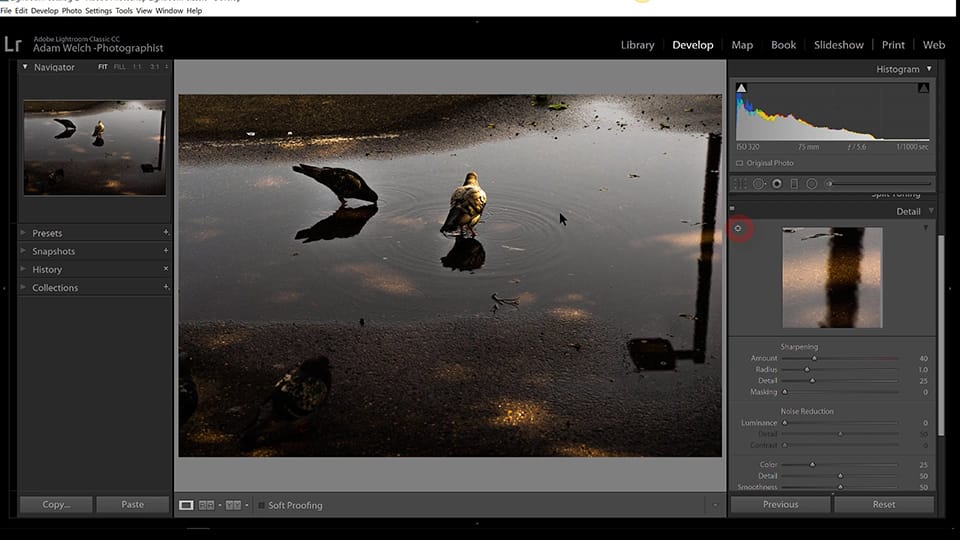 Working with the Detail Panel 9m 47s
The Detail Panel in Lightroom Classic deals with sharpnening and noise reduction. This is an often overused panel, and we'll show you how to subtly and responsibly apply sharpening and noise reduction to your images.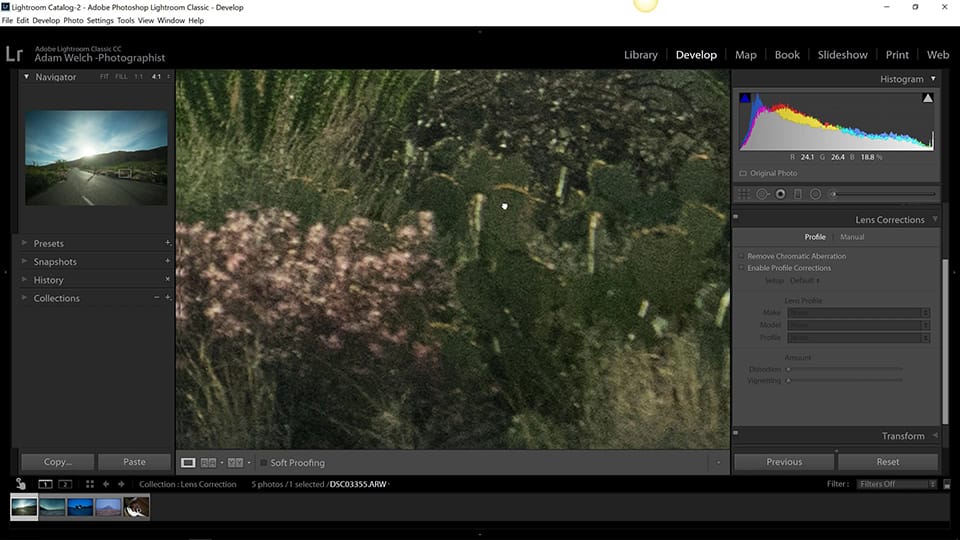 Understanding the Lens Correction Panel 12m 05s
Every lens has benefits and pitfalls. The Lens Correction Panel is crucial to ensure that you eliminate some of the issues introduced by your lens, right there in Lightroom Classic.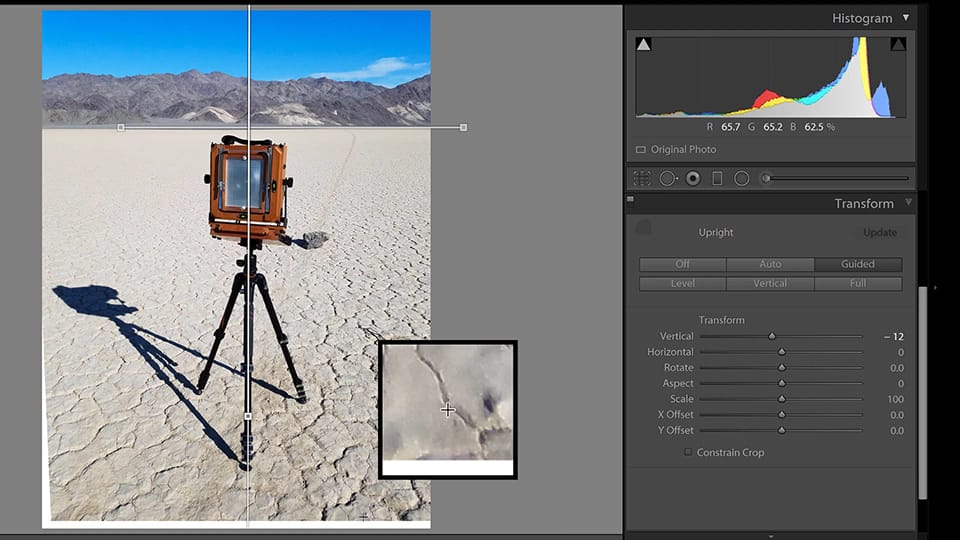 The Transform Panel can help correct lines and other geometric properties of your images. If you shoot architecture or landscape photos, this is a must-watch video.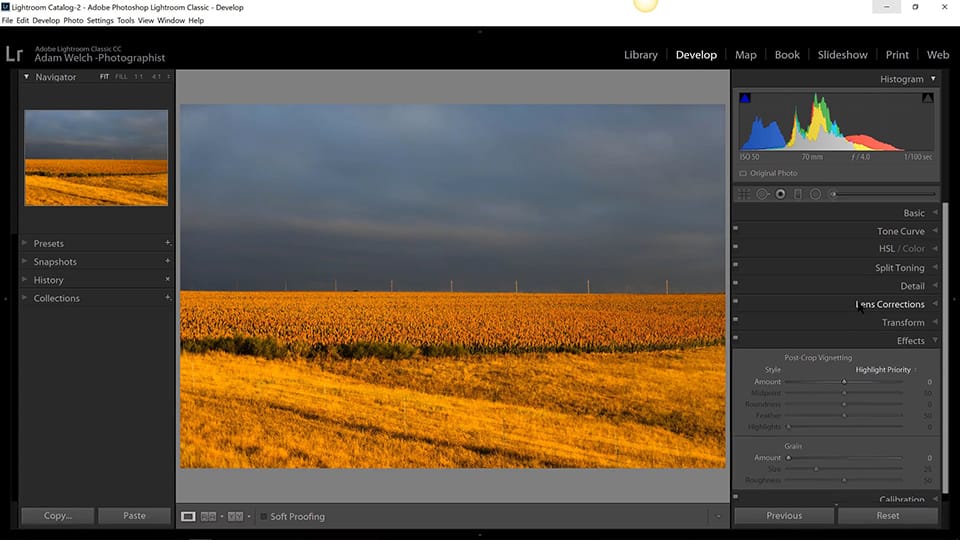 Working with the Effects Panel 10m 38s
Ah! The Effects Panel. From vignetting to adding grain/noise to your images, this is the panel you'll want to use to achieve those effects.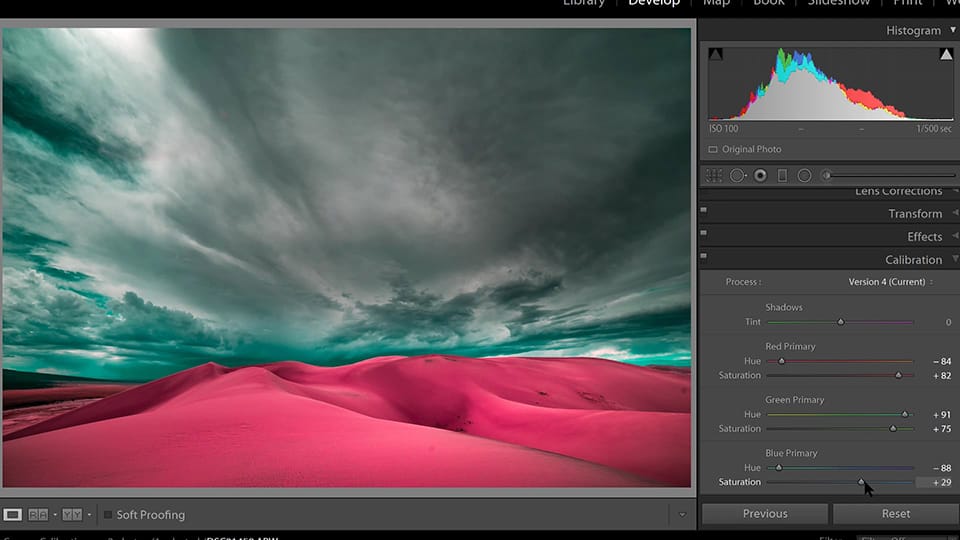 Using the Calibration Panel 7m 39s
Do you shoot in RAW format? (hint: you should!) In the Calibration Panel video you'll better understand how to use this panel so allow Lightroom Classic to interpret the raw data in your image files.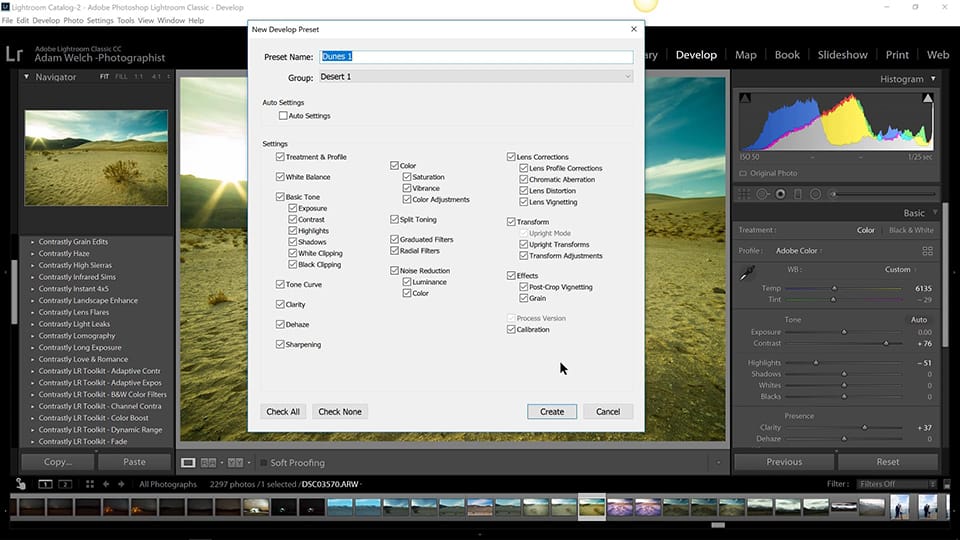 All About Presets & Creative Profiles 18m 59s
Lightroom Presets and Creative Profiles are extremely useful tools you can use to speed up your editing in Lightroom Classic. We'll walk you though how to use presets and create your own, as well as go over the new Creative Profiles.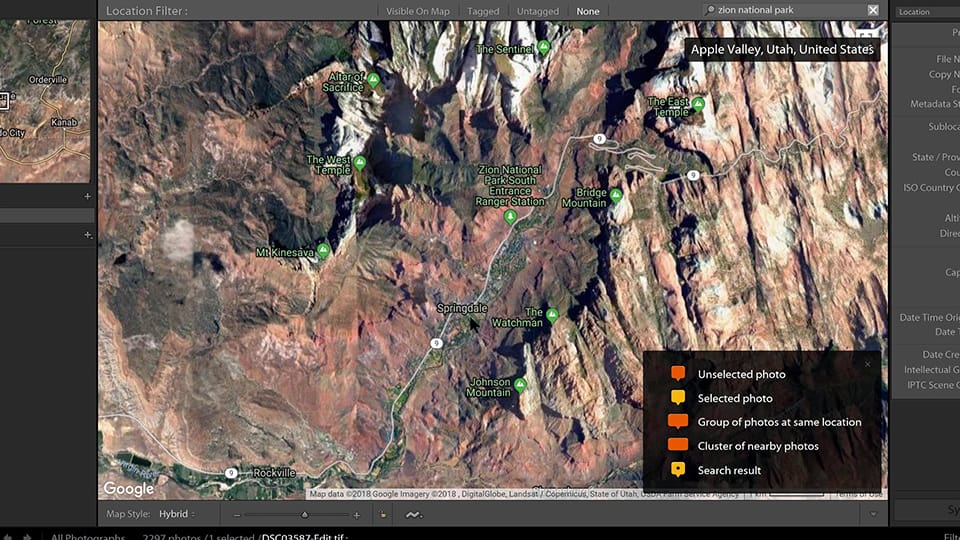 Using the Map Module 8m 35s
If your photos contain location information, you can have them appear on the Map automatically, or tag them to show up in specific locations. The Map Module is a powerful tool to help you precisely geo-tag your images.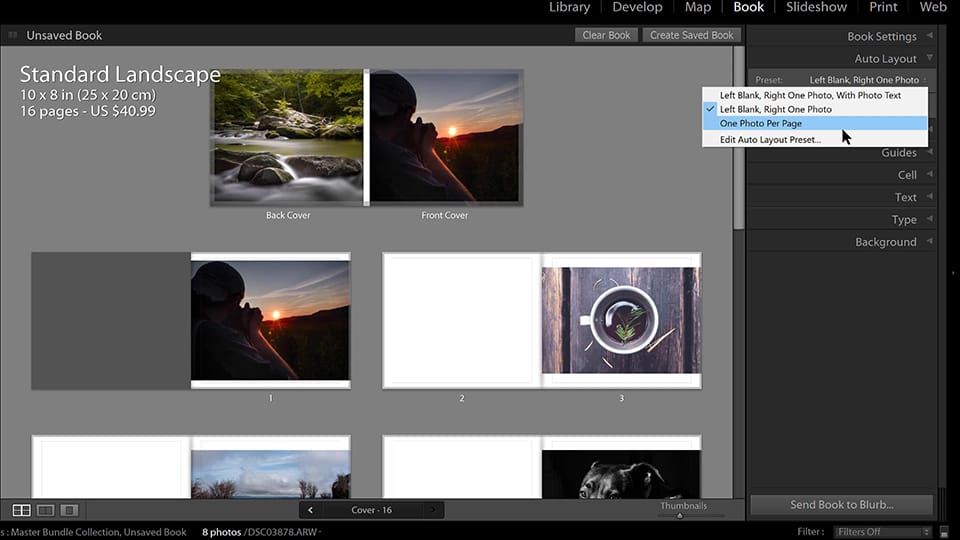 Creating Photo Books with the Book Module 9m 35s
One of the most satisfying experience as a photographer is seeing your photos printed in a photo book. This is exactly what this lesson is about! It can be done directly from within Adobe Lightroom Classic.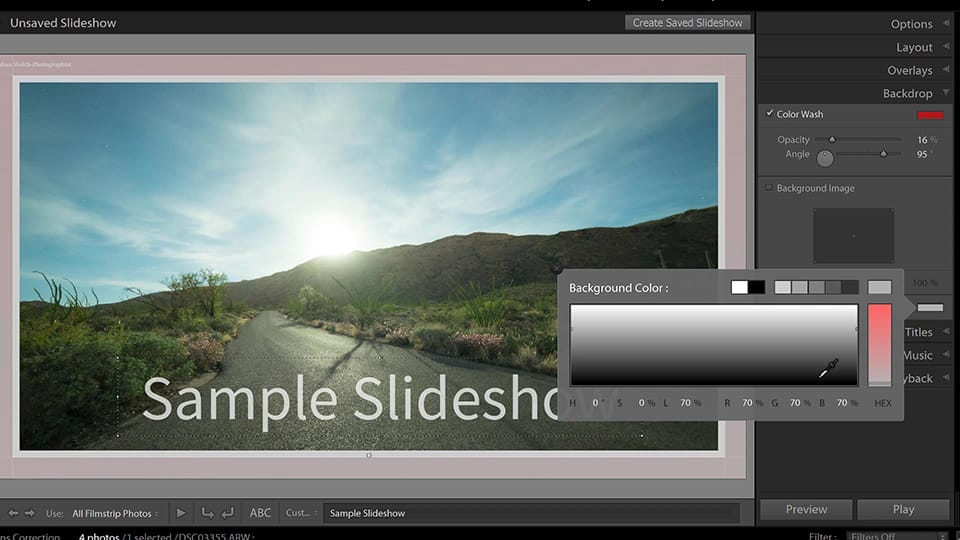 How to Use the Slideshow Module 14m 57s
The Slideshow Module enables you to create digital slideshows, as simple as that! It's a great tool for when you want to showcase and cycle through your images. We'll show you exactly how this works.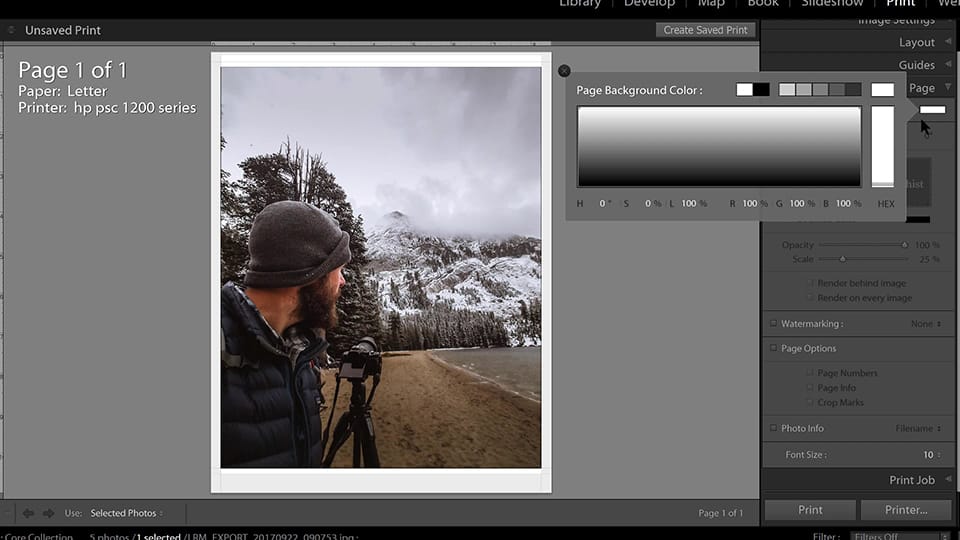 Understanding the Print Module 12m 37s
Printing your work is, for many photographer, the ultimate goal. In this lesson we'll go over how to do just that. From selecting your images to selecting a layout and print options, this lesson covers it all.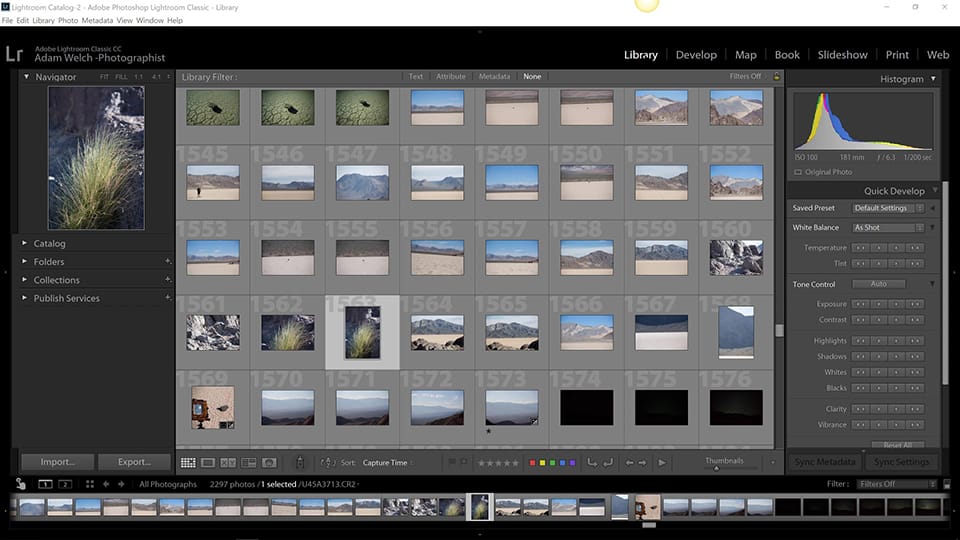 Mastering the Web Module 11m 33s
Want to publish your image galleries to the web? This can be done directly from within Lightroom Classic. The only requirement is that you have a hosting account / server to publish your galleries to.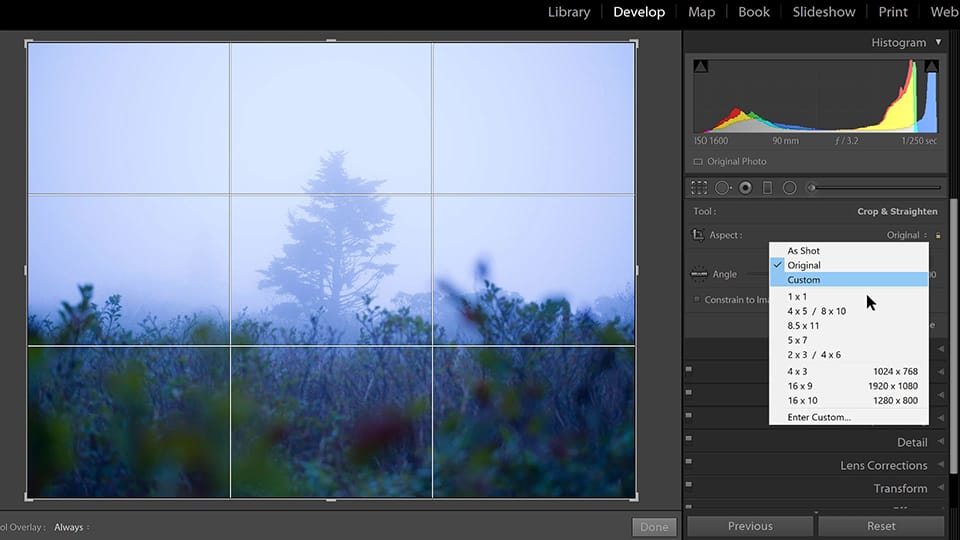 Working With Local Adjustment Tools 24m 40s
Local adjustments enable you to really take creative control over your post-processing. In this lesson we'll talk about all the local adjustment tools available: Crop, Spot Removal, Red Eye Correction, Graduated Filter, Radial Filter, and Adjustment Brush.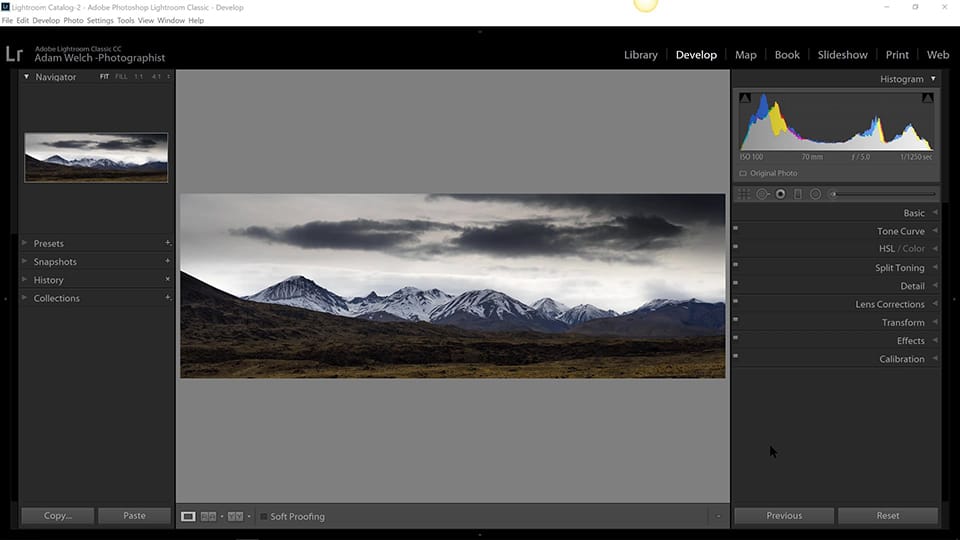 How to Export Your Photographs 15m 53s
Exporting your images is often the final step once you're done with your editing. This is where you'll select how and where to export your photos so you can then view them in all their glory, or send them over to your clients!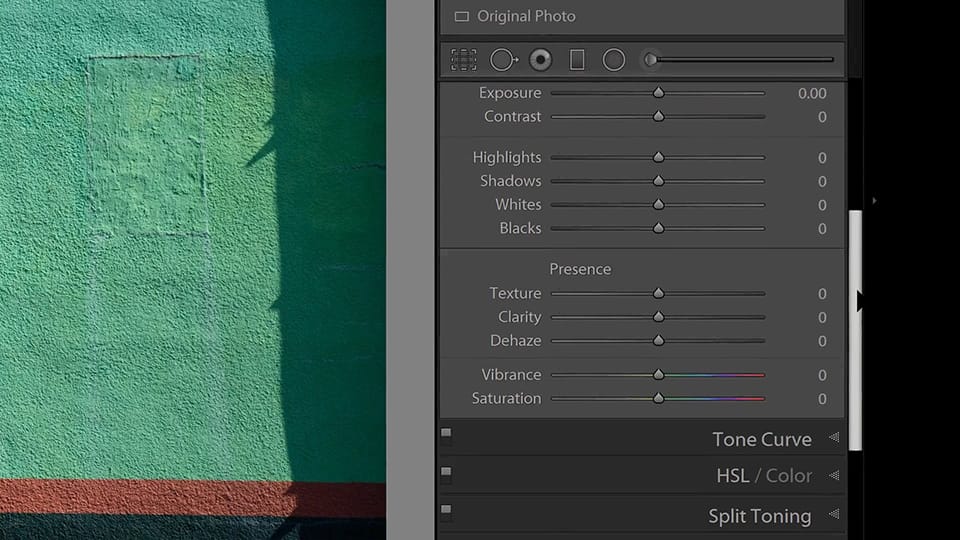 All About the Texture Slider 17m 01s
NEW – The Texture slider was introduced by Adobe in Lightroom Classic in May 2019. The Texture slider was developed as a smoothing slider but it can just as well help to enhance textures.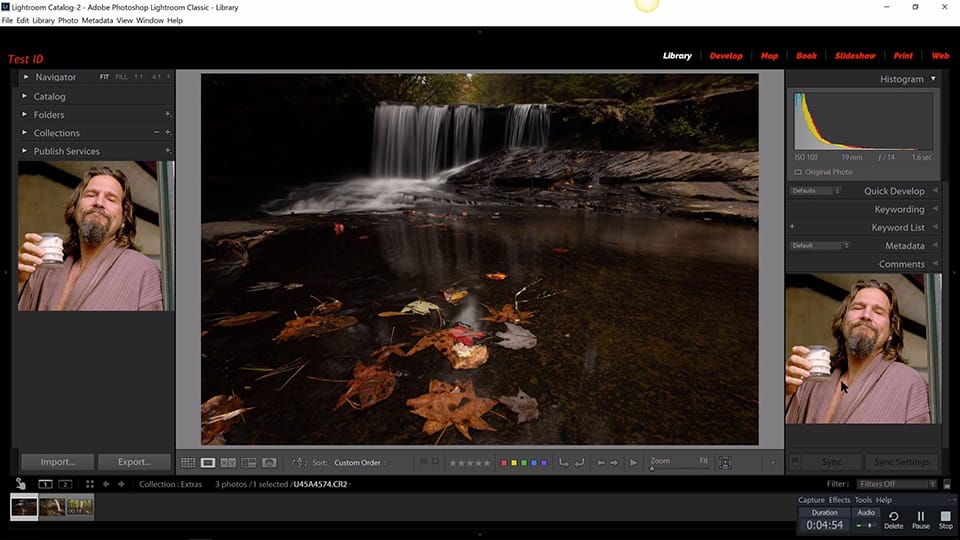 Extras, Tips, and Tricks 15m 08s
This bonus video contains some extras and lesser-known tips and tricks that you can use to really make Lightroom Classic your own.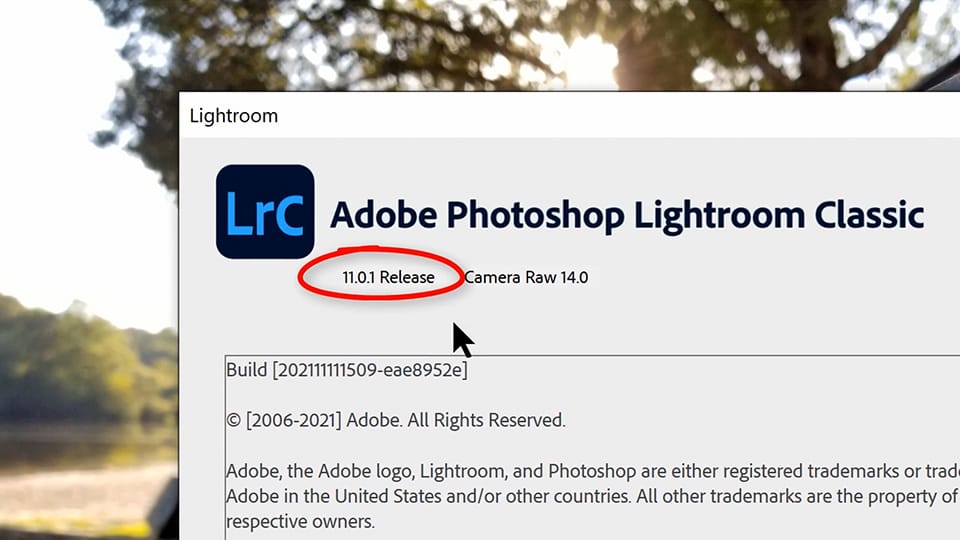 Lightroom Classic v11 Update 19m 24s
NEW – The Lightroom Classic v11 update is one of the most significant updates to Lightroom Classic since... well, Lightroom itself! In this video we'll examine all the recent changes and updates and go through the new marking and sky replacement tools.
Imagine if you could open up Lightroom Classic and know exactly why, what and how to get the stunning results you know you should be getting! Get instant access to the Decoding Lightroom Course today.
Extras & Bonuses
Not only do you get awesome training material when you purchase the Decoding Lightroom video course, you also get free Lightroom & ACR Presets, a quick tips sheet, practice RAW files, and exclusive discount codes on other products.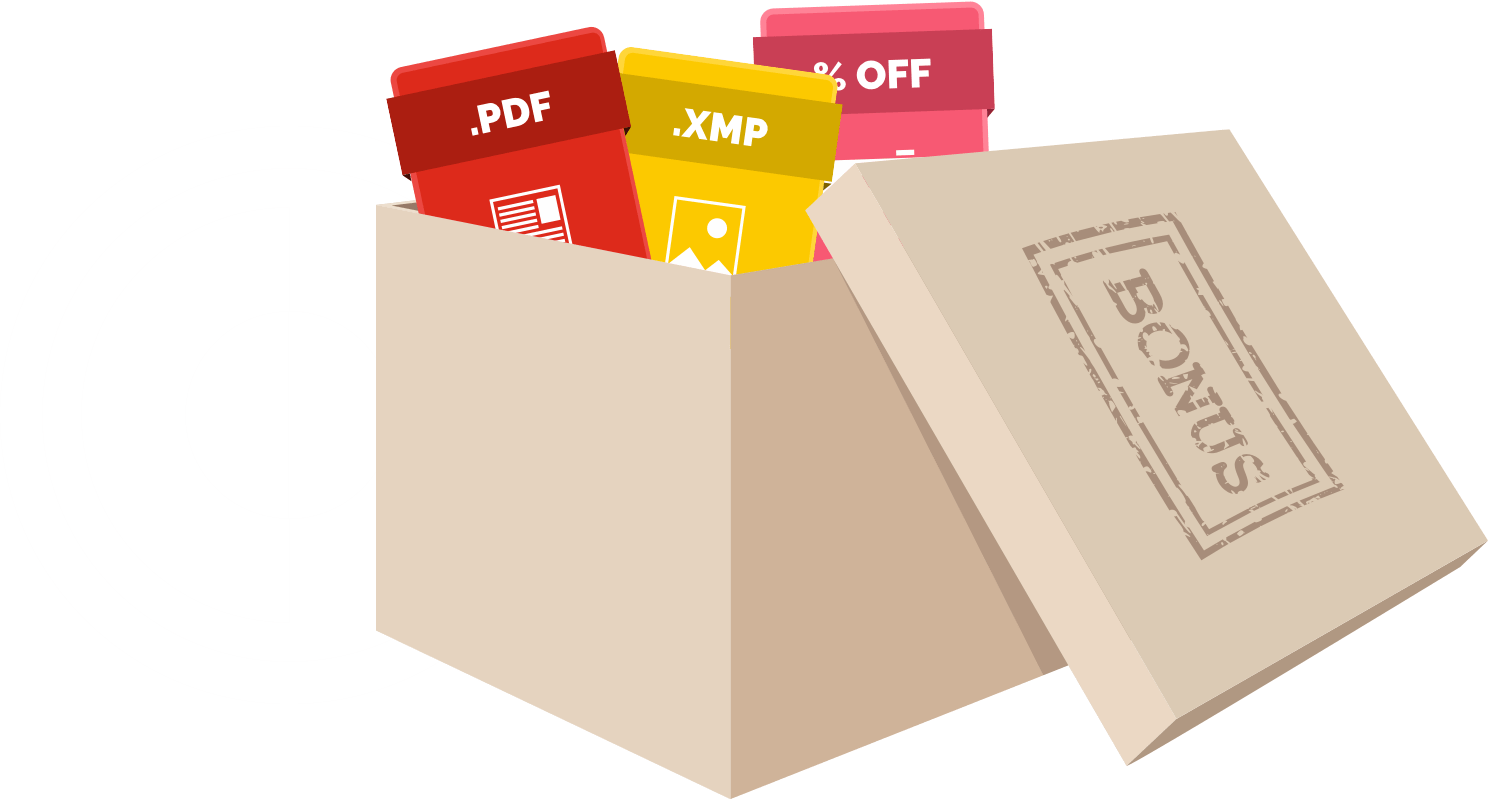 Frequently Asked Questions
Do you have a question? We are here to help!
What software do I need to watch the Decoding Lightroom videos?
First of all, you definitely should have Adobe Lightroom Classic (the desktop-based version of Lightroom) installed on your computer since that's what this course is about!
You don't need any special software to watch the videos. Our online streaming platform works on nearly every device and operating system.
What version of Lightroom do I need?
Decoding Lightroom was designed to show you how the software works and we're using a recent version of Lightroom in the videos, but if you have an earlier version like Lightroom 6 or CC2015, that's ok. The Lightroom interface has been mostly the same since Lightroom 6, save for a few features.
Of course we highly recommend that you update to the latest version of Lightroom Classic, but if you have a slightly older version of Lightroom, you'll still learn a ton! This course does not cover the cloud-based version of Lightroom (Lightroom CC)! It covers the full Lightroom Classic desktop software.
Are there any system requirements?
Not really. The beauty of this online course is that it's available in streaming. Nothing to download or special software is required to watch the videos – unless you prefer to download them to your computer or device to watch them while you're offline. Simply login to your account and start learning! For as long as you have an internet connection, you're good to go.
Can I watch the course lessons on any device?
Absolutely! The streaming platform we use to deliver the videos works with nearly all devices and operating systems out there. If you need to download the videos for offline syncing, you can do that too.
When will I receive access to the online videos / login?
Once you complete your purchase you will get an email right away with instructions on how to access your purchase. This email contains your login credentials. If you've purchased from the Contrastly Store in the past, you'll be able to request a new password via the Products Dashboard.
What currency do you charge in?
All of our products are in USD. You can check current exchange rates via xe.com.
What happens when there's an update to Lightroom?
When Adobe releases a major update to their Lightroom Classic software, we'll update the course with the latest information (either by editing existing videos or releasing new ones) and notify you when we've updated the Decoding Lightroom course. We won't cover minor updates and bug fixes, only major updates and changes.
How can I get in contact with you?
That's easy! Just drop us an email and we'll get back to you as soon as possible.