Cinematic Looks
10 Premium LR & ACR Creative Profiles
From 80s films to more modern work, those creative profiles pack can help give your images that coveted cinematic look; in a single click! The days of film are not gone! These Lightroom & Adobe Camera Raw creative profiles will take you back to the classic look of film cinema with vintage colors, contrasts and tones.
Add in a little specialized grain and you've got a combination that will give your images that nostalgic flare.
Or, go all in and give the 80's Cinema profiles a shot. After all, that was a decade of big hair, funky colors and big attitudes. This mood is captured with the 80's Cinema creative profiles. They'll punch up the color and add in some subtle cooling for that 80's grunge feel.
These brand new creative profiles are the perfect companion to your existing Lightroom Presets or Photoshop Actions as they work in both Lightroom CC / Classic CC and Adobe Camera Raw (ACR).
The 10 creative profiles included in the Cinematic Looks pack are compatible with the latest version of Adobe Lightroom Classic, Lightroom CC, and Adobe Camera Raw 10.3+. Make sure you download it today and get a head start with your editing.
Please keep in mind that those Creative Profiles are not the same as Presets. Make sure you check out our step-by-step installation instructions to get the profiles in the correct location on your computer.
What's Included
10 Premium LR & ACR Creative Profiles .xmp files
Requirement
Adobe Lightroom CC or Classic CC also works with Adobe Camera Raw 10.3+
System Compatibility
Windows, Mac, iOS, Android creative profiles can also sync seamlessly with Lightroom CC mobile app
Download it Today
$14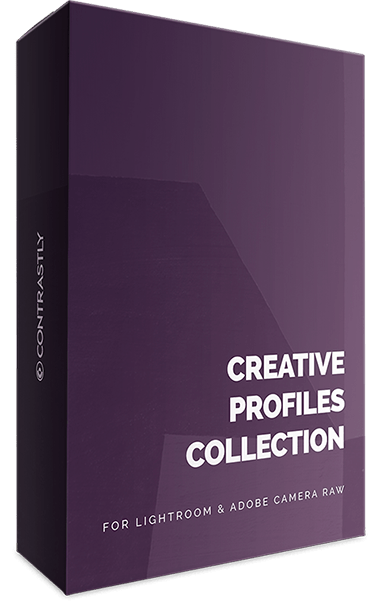 Upgrade to the Lightroom Creative Profiles Bundle
The Cinematic Looks pack is included in the Lightroom Creative Profiles Bundle. Upgrade & get it today!
Before & After Images
Here's a small preview of what you could accomplish using the creative profiles. Why use Contrastly's creative profiles?
We want to help you take your photography where you never thought possible!
Hands down the fastest and most thorough customer service. We strive to respond to support emails within a few hours, 7 days a week.
Don't spend hours creating looks from scratch. Start with a Creative Profile, adjust the amount/intensity, and then feel free to apply presets or other adjustments.
Our Creative Profiles are approved by Adobe – they even mentioned our profiles in their announcement!
All our creative profiles come in well-organized files and folders so it's easy to find what you're looking for – we design our products with easy-of-use in mind.
Installation instructions are available via our Support Center at any time. And of course we're always available via email.
The creative profiles work well with both JPG and RAW files and offer a great starting point for both beginners and veteran photographers alike.
The Creative Profiles work great with the latest version of Adobe Lightroom Classic and Lightroom CC (including the mobile app), as well as the latest version of ACR (10.3+ and newer).
Simplify your workflow. Save time. Express your creative vision.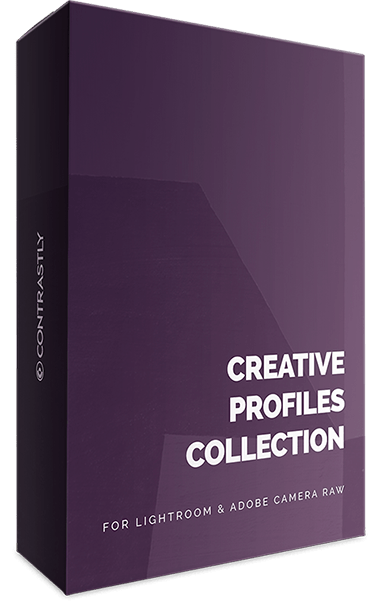 Upgrade to the Lightroom Creative Profiles Bundle
The Cinematic Looks pack is included in the Lightroom Creative Profiles Bundle. Upgrade & get it today!
Ready to Get Started?
There are 10 creative profiles in this pack. We've organized them so you can quickly and easily find what you're looking for. Don't delay and grab the Cinematic Looks Lightroom & ACR creative profiles pack today.
Frequently Asked Questions
Do you have a question? We are here to help!
What software are the Contrastly creative profiles compatible with?
The creative profiles are compatible with the latest versions of Adobe Lightroom CC and Lightroom Classic CC. They are also compatible with Adobe Camera Raw 10.3+ (ACR). And yes, the creative profiles can also be synced with the iOS or Android Lightroom mobile apps.
What are the system requirements for using those creative profiles?
The creative profiles will work on both Mac and Windows computers. The only requirement is that you have Adobe Lightroom CC/Classic or Adobe Camera Raw (10.3+) installed on your computer (if your computer can run the latest version of Lightroom or ACR 10.3+, the creative profiles will work just fine). You can also sync the creative profiles to the Lightroom CC mobile app.
When will I receive my download link for my order?
Once you complete your purchase you will receive 2 emails: the first one is a receipt that details the transaction, and the second email contains your login information. Those emails are usually sent right away.
What currency do you charge in?
All of our products are in USD. You can check current exchange rates via xe.com.
How do I install the creative profiles?
Installing the creative profiles is easy! Please refer to our Support Center for help with the installation.
What does "free lifetime updates" mean?
This simply means that we have your back! Whether we release and update or bug fix to this pack of creative profiles, you'll get an email notifying you of the update and will be able to download the new creative profiles for free!
How can I get in contact with you?
That's easy! Just drop us an email and we'll get back to you as soon as possible.