A Modern Approach to Photographic Composition Ebook
Composing for Photographic Self-Expression
How do we make our photographs more powerful, more pointed? Learn all about photographic composition & express yourself through effectively composed photographs.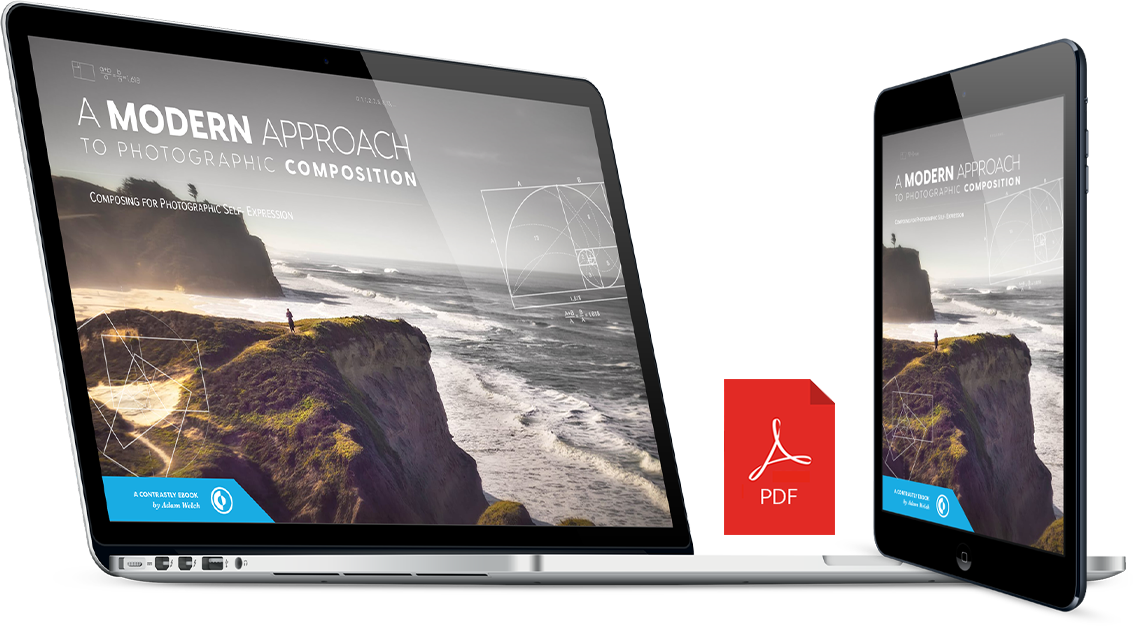 How do we make our photographs more powerful, more pointed? It's painless to be ordinary. The difficulty lies in being unique.
Where does that line between a simple snapshot begin to transition into self-expression? How do we sew together our visions of self-expression within the photographs we make? In a word; composition.
With this ebook, our goal is to investigate (and demonstrate) those small pieces of the photographic puzzle that must be assembled to accomplish the most uniquely marvelous feat any of us can hope to achieve: expressing ourselves through effectively composed photographs.
Once you reach the realization of this freedom, you will become more proficient in your understanding of some of the most common aesthetic principles of photographic composition.
In short, we're going to teach you the rules of composition in photography and then make sure you know that it's altogether acceptable to break them.
No rule of composition can replace personal judgment. A beautifully executed photograph is just as likely to follow the rules as easily as it can break free from them. You hereby have permission to break the rules.
We have designed this ebook to look great on many devices and offer a comfortable reading experience. The included PDF is perfect for reading on your desktop/laptop computer or tablet.
This ebook is broken down into 10 chapters that contain 90+ pages packed full with theory, techniques, concepts, advice, and tips & tricks to help you master composition and create stunning images that wow viewers!
What's Included
90+ pages ebook .pdf file
Requirement
A desire to learn composition... ...and create photographs that your audience will love!
System Compatibility
This PDF ebook can be read/viewed on any device
Download it Today
$29
Why read this ebook?
Learn composition fundamentals, techniques, and concepts to create truly outstanding images.
Learn creative techniques that photographers use to create stronger compositions.
Create breathtaking photographs that will wow your audience and make them want to explore more of your images.
Learn all about the Golden Ratio and Golden Rectangles and apply the principles you learn in this ebook to your own photographs.
Get a deeper understanding of Leading Lines and Framing to really draw attention to your elements in your frame and lead your viewers through your images.
How (and why!) to use symmetry and patterns to create amazing images. Every. Single. Time.
Learn all about the Rule of Thirds – when to use it, how it works, and when to break out of it.
Improve your compositions using the Phi Grid and the Fibonacci Spiral.
Discover the secrets of photographic composition used by thousands of photographers!
Increase your odds of capturing awesome portraits with composition techniques tailored to portrait photography.
Shoot outstanding images by learning all about positive & negative space and tell compelling stories with your images.
Go through the chapters at your own pace and practice what you've learned when you're out there shooting.
Most importantly, learn how and why it's ok to break the "rules" of photographic composition.
And so much more...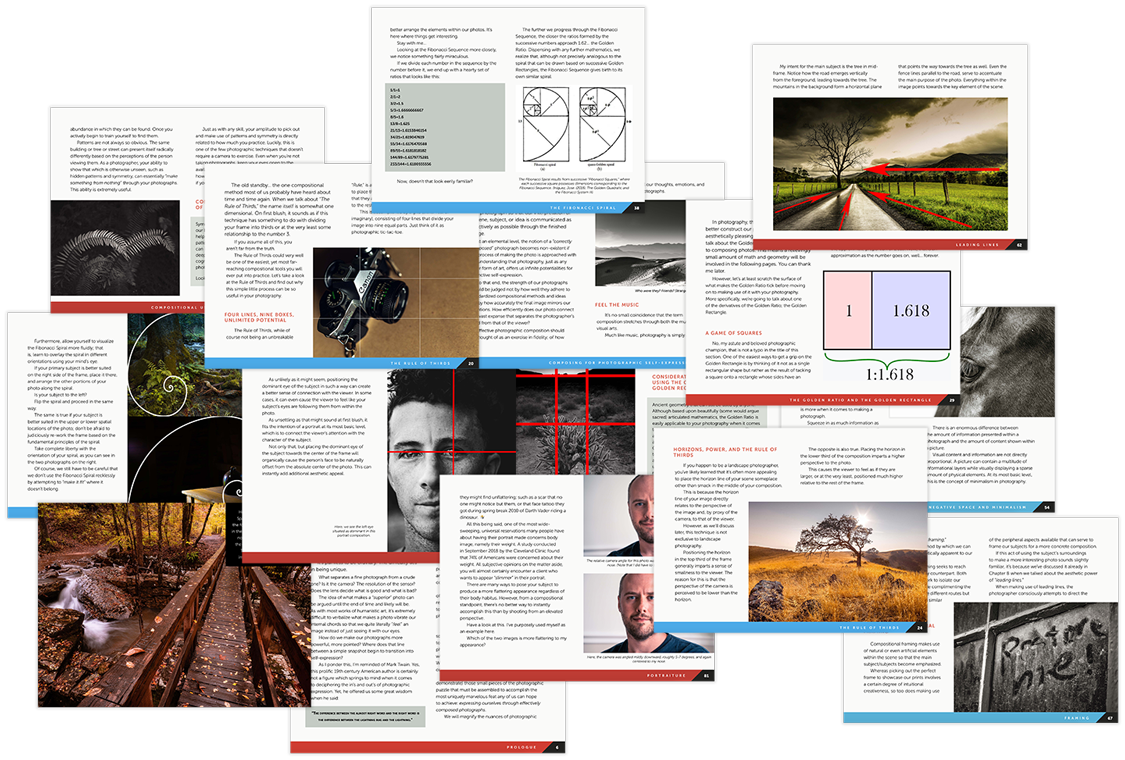 What is Included?
The Modern Approach to Photographic Composition ebook contains a total of 10 chapters (that's over 90 pages.) Below you'll find the complete list of chapters in the ebook.
Complete with screenshots and example photos, this ebook, by award-winning photographer and author Adam Welch, will guide you on your journey to creating amazing compositions!
Foreword 4
Preface 6
Chapter 1: Composing for Photographic Self-Expression 8
Chapter 2: Practical Composition 13
Chapter 3: The Rule of Thirds 19
Chapter 4: The Golden Ratio and the Golden Rectangle 28
Chapter 5: The Fibonacci Spiral 35
Chapter 6: Compositional Use of Symmetry and Patterns 45
Chapter 7: Positive Space, Negative Space and Minimalism 50
Chapter 8: Leading Lines 58
Chapter 9: Framing 65
Chapter 10: Portraiture 72
Epilogue 88
You can learn composition no matter what camera gear you use or what your skills or experience levels are. Download your copy of the Modern Approach to Photographic Composition ebook today!
Frequently Asked Questions
Do you have a question? We are here to help!
What software do I need to read the this ebook?
This ebook comes in PDF format – thus any PDF reader application will work just fine – whether that's on your desktop/laptop computer, your tablet, or even your phone.
Are there any system requirements?
No. The beauty of PDF files is that they can be viewed on almost any device, from Mac to Windows, iOS and Android. For as long as you can open a PDF file, you'll be fine. The only requirement is that you have a desire to learn about composition :)
Can I read this ebook on any device?
The ebook is a PDF file, which can be viewed on pretty much any device (iPhone, iPad, Android and Windows tablets, etc...)
When will I receive my download link for my order?
Once you complete your purchase you will receive 2 emails: the first one is a receipt that details the transaction, and the second email contains your login information. Those emails are usually sent automatically after a completed purchase.
What currency do you charge in?
All of our products are in USD. You can check current exchange rates via xe.com.
Can I re-download the ebook if I need to?
Yes, of course! When you purchase this ebook (or any Contrastly product, really), you have lifetime access, and you can re-download it at any time from your Contrastly Account dashboard.
How can I get in contact with you?
That's easy! Just drop us an email and we'll get back to you as soon as possible.